The Perspective of UI.X 2
UI.X is back and better than before! We're sharing our thoughts and ideas behind UI.X 2 before we go live this week.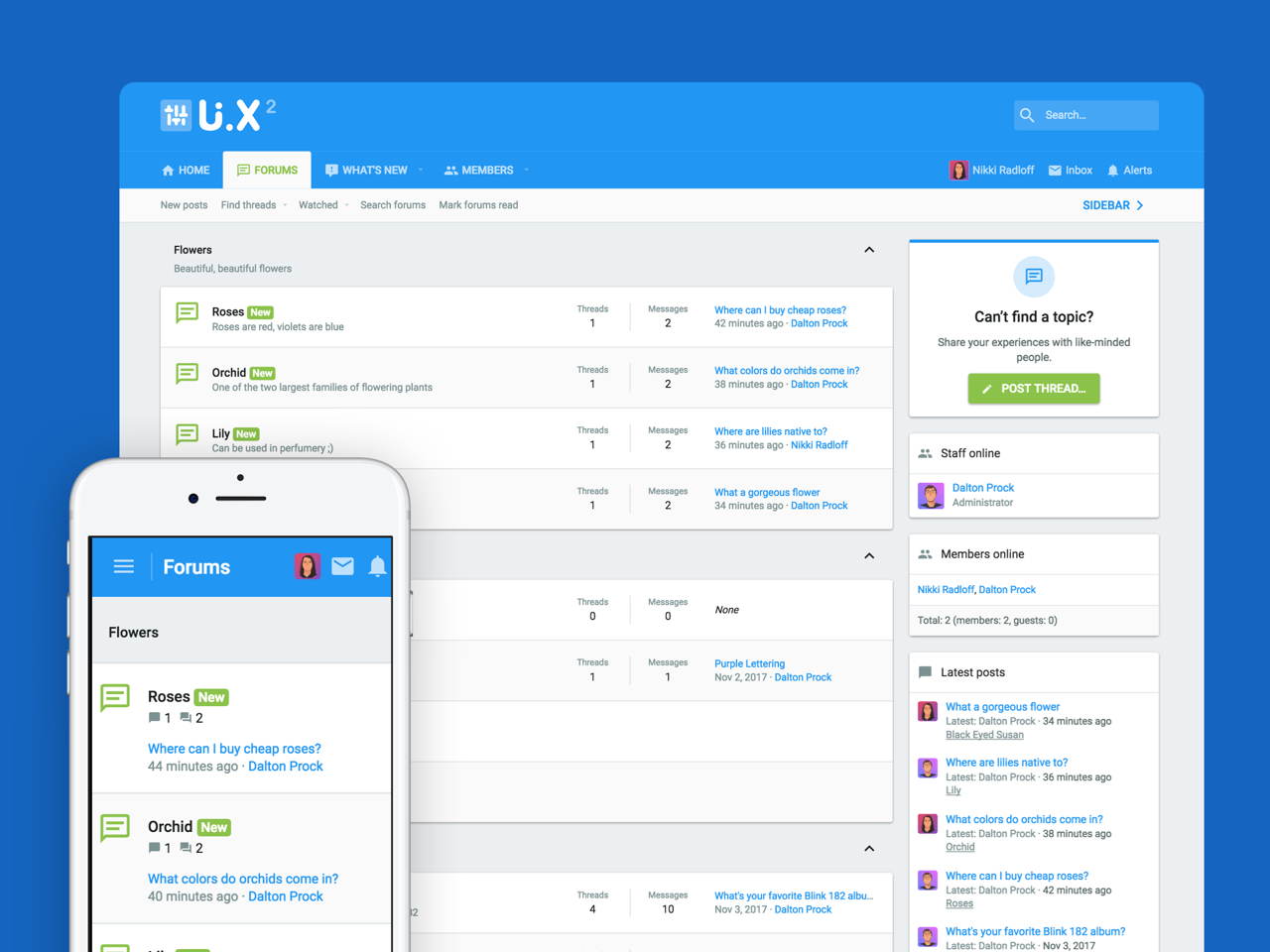 UI.X for XenForo 1 and 2? What's the difference?
UI.X 2 is built specifically for XenForo 2. We've included most of the same functionality as UI.X 1 and focused on maintaining the power and flexibility we achieved initially. So if you're already running UI.X for XenForo 1, it will seem very familiar.
The difference between UI.X 1 and 2, is that UI.X 1 was more of a theme framework. We made some decisions based on what we felt would be best which meant sometimes changing default functionality of XenForo. This made some people a bit confused as to where to change certain things. For UI.X 2, we will be keeping the same general idea of the default style but adding all the framework tools under the hood; in other words, on install we don't enable any major tools or we have placed them in separate add-ons. This way it will be very approachable, easier to upgrade, and new features will not get in your way when you upgrade.
Our focus for UI.X 2 centered around:
Integrate pixel perfect with Google's Material design standards

An "everything-just-works" mentality out-of-the-box; a more refined product

Easier upgrades by releasing a tried and true product and more thorough testing before each and every upgrade

Smooth integration with each ThemeHouse add-on or tool
So while we don't turn any large features on for you in UI.X 2 out of the box, we have a product that we have, that is far more opinionated, and aims to be the ideal forum experience. That product is UI.X 2 Pro. It will center around idealistic approaches, with a strong opinion on how best to lay things out. The UI.X 2 Pro theme will be included with UI.X 2 product, but will not include setup, other add-ons, and anything else that comes with that package. Just the theme .xml for your convenience should you decide to use those style properties and settings.
Introducing UI.X 2 Pro: The Ultimate Theme Experience
UI.X 2 Pro is the ideal forum experience, specifically for forums looking to increase revenue, community interaction, and offer high quality user experience. We aim to have UI.X 2 complete before the end of the year. UI.X 2 offers an optimized forum theme experience, complete with all the necessary forum essentials. Our research stemming from building and managing thousands of forums has leaned towards certain configurations, add-ons, and tools being optimal. UI.X 2 bundles these options into an easy, out-of-the-box experience.
Since some community owners and admins might have their own opinion, we decided to group these decisions into a separate system/theme. This way, if you still want full control over your theme, you can just go with UI.X 2 and make these decisions for yourself.
We've taken those observations and created an ideal forum package complete with:
UI.X in its entirety, full framework tools and options

True Material design, as Google intended and our interpretation of that for forums, as opposed to how the XenForo team has laid components out

Essential add-ons every forum should have are included

Installation of theme + add-ons: we do it for you so you don't have to

Included customization for colors, logo, help with nodes and the like
How do I get it?
If you're a current ThemeHouse monthly subscriber (through the Themes & Add-ons Plan) you will have access to an advanced release of UI.X 2 beginning Tuesday, November 14th! Since XenForo is still in beta, we are considering UI.X 2 a beta product as well and insist caution when using on a live database. Make sure to back-up your database regularly.
You can grab the theme here now!
Otherwise, we will do an official release early December, exact date once we are closer to that time :)
From the team
We hope you are as excited as we are for the XenForo 2 launch and UI.X 2 pro launch! Our team has been working hard and are proud to release UI.X. Our passion is for building quality products and for helping to create thriving online communities, and we are very proud of this product. We know you will love it too!