TouchArcade launches with iOS-inspired theme
For the past 10 years, TouchArcade has been the leading source for iPhone and iPad gaming news and reviews. TouchArcade also offers an active community of app developers and avid players that boasts more than three million posts and covers not only iPhone and iPad gaming but also Apple TV, Nintendo Switch and Android games.
Feel free to check out the new website here.
The Challenge
We were approached by the team behind TouchArcade to revitalize their current web presence which included a complete overhaul of their color palette, news listing and community. Being such a cornerstone in iOS gaming news, we wanted to retain their branding but uplift it with more modern concepts. Positioning and layout was also a concern with a sidebar containing a variety of widgets and a full listing of categories that spanned well past the page content.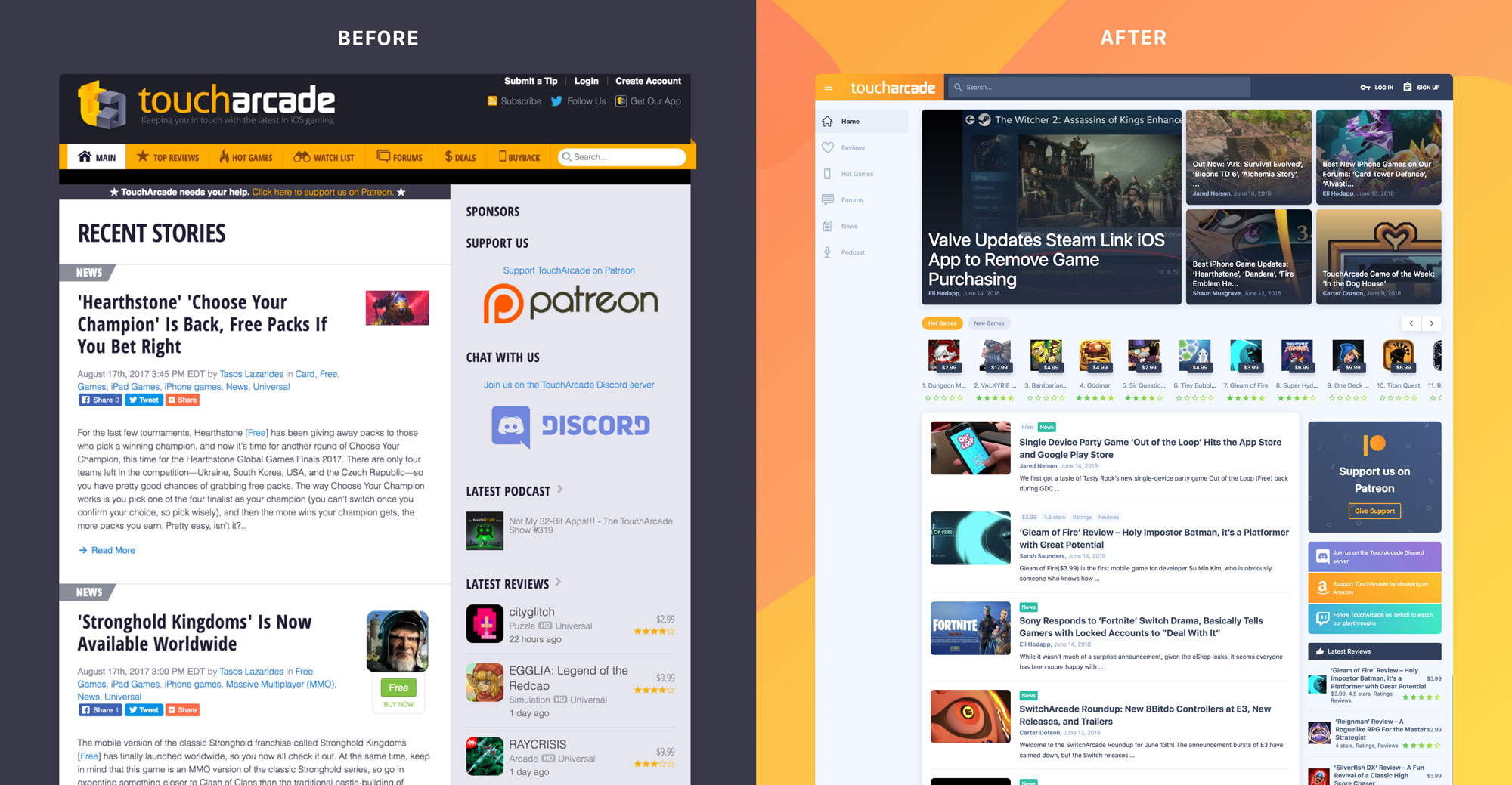 The Solution
We approached this project knowing we wanted to bring iOS design style to TouchArcade with rounded corners, soft drop shadows and vibrant gradients. With the aesthetic in mind, we reevaluated the pages from the top-down. We decided a Google Plus experience would be best for such a content-driven site. With the navigation items in the left menu instead of the header, the search bar could take more prominence, encouraging users to discover content more easily.
The end result was a playful and modern online experience that created a familiar environment to regular visitors of the App Store while still appealing to the general audience.
Project Included:
Complete UI/UX design process that focused on updating the website with iOS design concepts

XenForo forum development with emphasis on responsive design and functionality enhancements

WordPress development of all essential news views

Advertisement placement and setup
The team behind TouchArcade was such a great collaborative partner on this project, something we always strive to foster with every partnership we have. We were very appreciative to have complete creative reign and has become of our best projects to date!